As is the case now, being a young Irishman away from home at a top English club was not always the dream it tends to be portrayed as by some. There was a constant pressure to perform and a need to keep achieving various levels of excellence.
Realistically, you would have had to be in the youth team by the time you were 16 and then breaking into the reserves around 17," he recalls
"Your next challenge was the first team, which was huge. You had about four shirts to rip off somebody else.
You had to be on that track by 16 and 17 to make your mark because it was so competitive at Arsenal at the time."
For Devine and countless Irish youngsters who travelled over to England during that era, failure scarcely seemed like a viable option. For the most part, education was secondary and significant gambles were taken.
There wasn't really much backup. Arsenal were probably one of the best — they'd send you to school once a week. But it really didn't compensate compared to nowadays where (players are) getting full-blown degrees.
"Back then, if you didn't make it, you really had sacrificed two or three years of your education.
There was possibly no return at that age. If you went back to your hometown, you're looking at being a failure and standing back on a street corner. It was very tough on guys, I've seen so many thousands of them go by the wayside."
And while the Irish lads in particular would have stuck together back then, Devine says he made few long-lasting friendships from that period with those he played alongside.
It's a very strange game, football at that level. You're really competing against each other, even though you're buddies off the field. You're competing for a position in the team, so there are very few who have great friends in football.
"Once you leave football, it's very rare that you stay in contact with the people you were with.
When I was living at home, I used to bump into Liam (Brady) at the St Kevin's Boys tournament and we'd have a coffee.
"But as far as everyday contact goes, if you went to a function occasionally, you might bump into the guys, but that's it."
There is at least one exception, however. Devine remains close with Steve Bruce, who he played with at Norwich, prior to the English defender's days starring in title-winning defences during the early part of Man United's dominance under Alex Ferguson.
He's one of the guys I became friends with and keep in touch with. When he arrived at Norwich, himself and his wife became good friends with myself and my wife. His son became friends with my daughter, so that relationship prospered. I've often sat in a room having dinner with him, saying: 'How the hell did you not get capped for England?'"
Ultimately, Devine spent 10 years at Arsenal. The official Gunners site lists him as having made 108 starts and three substitute appearances during his time at the club, but when I bring this up, he dismisses these figures.
People don't record the real record. I played 397 games for Arsenal from when I actually signed," he says, counting games at every level. "It was over a 10-year period, which was incredible for me.
"The people at Arsenal are very proud of the fact that I came through their system from youth all the way through to the first team."
A pacy, tough-tackling full-back, Devine made his senior debut amid a 3-1 win over Leeds in November 1978. He took little time to establish himself as a first-team regular.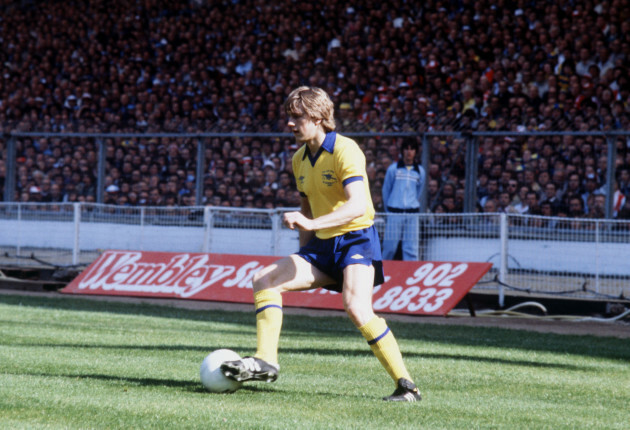 Devine pictured playing in the 1980 FA Cup final for Arsenal against West Ham.Source: EMPICS Sport
And Devine's most memorable campaign with Arsenal was the 1979-80 season, where the Gunners reached the final of both the FA Cup and Cup Winners' Cup.
The two matches in question took place within four days of one another and both ended in disappointment. With Devine starting at left-back, Arsenal were beaten 1-0 by West Ham thanks to Trevor Brooking's 13th-minute goal in front of 100,000 people at Wembley on 10 May. Shortly thereafter, Terry Neill's team drew 0-0 with an Alfredo Di Stéfano-managed Valencia side, but missed out on European glory as they were defeated 5-4 on penalties. Despite twice being on the end of an unfortunate outcome, Devine refuses to cast these experiences in a negative light.
The medals I have, I never refer to them as 'runners-up medals'. If anyone's ever been to Wembley and played in FA Cup finals, they know how hard it is to get there.
"The three medals I have, I don't (specify) the winners' one as well — the FA Cup, the European Cup Winners' Cup and the League Cup (with Norwich in 1985). I'm lucky that before I finished playing, I actually got the three top medals at the time. Some players never get to Wembley, even to watch a game."
Of the West Ham match, Devine adds: "The one great memory I have is that my dad was at that the game. I was only a 21-year-old kid. He was a keen football fan and I was very proud to have him there. I remember seeing him in the stand before the game — it was a great occasion."
And while his career contains no shortage of fond memories, it was also marred by serious injury at times. He suffered a broken foot playing for Ireland at underage level and also picked up a cruciate injury at Arsenal — issues that ultimately hastened his Highbury exit in 1983.
Back in those days, (the cruciate) was a career-threatening injury. Luckily for me, I played for another few years.
"But you lose a yard of pace when you have these injuries, they take a little bit away from you.
At Arsenal, the level is so high, it was always a stumbling block. It was tough to keep up that level of pace and quality, but to last 10 years, there aren't many that can do that.
"I've got the three top medals, I've played over 30 times for my country (at all levels), so I look at myself as being very fortunate that I reached all my goals and objectives that I wanted to as a kid."
Norwich City celebrate with the Milk Cup after their 1-0 victory: (back row, l-r) Steve Bruce, Chris Woods, Dave Watson, John Deehan, John Devine, Dennis van Wyk, Asa Hartford; (front row, l-r) Mark Barham, Peter Mendham, Paul Haylock, Mick Channon.Source: S&G and Barratts/EMPICS Sport
After two seasons and 53 First Division appearances at Norwich, in addition to the aforementioned League Cup triumph, following the Canaries' top-flight relegation, Devine joined another side in the Second Division, Stoke City. Replacing recently retired former England international Alan Hudson, life at his new team began promisingly for the Irish star after he signed in November 1985. With the club fourth from bottom and looking in danger of relegation, they soon went on an encouraging run that brought them up to seventh in the league.
However, on 15 March 1986, disaster struck. Devine was the victim of a poor challenge from Brighton's Eric Young that resulted in a leg break in several places. He would never play another match in English football.
So not for the first time, Devine was set for a long spell on the sidelines. After two operations, doctors suggested he may never run again. But that same steely determination that helped him survive as a teenager at Arsenal and become a professional footballer in the first place meant he was able to recover better than expected. In fact, he was still able to play football in India, Norway and finally, Ireland with Shamrock Rovers, helping the latter reach the 1991 FAI Cup final, before retiring for good after the opening game of the 1991-92 season
India was '87 and then '88 and '89 was IK Start. I was really aiming more towards coaching. At those levels, you could still play and it was still a fairly solid level. You could get 80,000 at the games in India. It was a highly competitive league.
"We won the league in India. We won promotion in Scandinavia."
While his playing days had come to an end, his coaching career was only just starting. In between stints in the League of Ireland as a coach with Shelbourne (taking over as caretaker after Eamonn Gregg was sacked in 1994) and Sporting Fingal (helping them win the 2009 FAI Cup), Devine worked for 10 years as Manchester United's Irish Academy director from 1997 on.
Devine had plenty of inspiration to work off from his playing days. He cites John Giles and Eoin Hand, both of whom he played under for Ireland, as key influences in his coaching style.
They both wanted to play football the right way — playing through the middle of the field, possession football," he adds.
At United, Devine got an up-close view of some of the most exciting young talents in football.
I remember being there the first day (Cristiano) Ronaldo arrived as an 18-year-old. Alex (Ferguson) said to me: take a picture of this guy, he's going to be a star.'"
Irish players he worked with (hailing from both north and south of the border) during that period included Jonny Evans, Craig Cathcart, Robbie Brady, Anthony Stokes and Jeff Hendrick.
After departing United and spending three years coaching with Sporting Fingal, Devine was subsequently appointed director of football at the South Dublin Football League in 2013 alongside fellow coach Paul Barry and CEO Michael O'Brien.
His role also involved working with Ruud Dokter, the Dutch High Performance Director of the FAI, as a consultant on the Player Development Plan.